Window Treatments
"There is nothing as beautiful as a beautiful window, looking out on a country landscape....A window like that is poetry to a room-gives it movement and life."
-William Baldwin Jr., aka Billy Baldwin, the dean of American decorators (1903 -1983)
Billy Baldwin loved to work with clients who had a point of view and believed that a room should be personal. His style could be as simple as the simple slipper chairs he loved, or as over the top as Diana Vreeland's famous red living room which she called her "Garden in Hell." Our valence curtains give you the opportunity to expressyourpersonality and match your personal home decor style. And if you need any really custom window treatments, let us know. Our workrooms are right here in the USA.
Window Valences and Other Window Treatments
Billy Baldwin also said, "Suitability always overrules fashion." Diana Vreeland's living room shown here is probably one of Baldwin's most famous room decorations. It's also one of the most unique! The "less is more" decorating philosophy is nowhere to be seen in the living room curtains of that iconic home decor. Whether it is for kitchen valences, living room valences, or any other room decoration, our window valences give you lots of choices.
Baldwin was also Babe Paley's decorator. Babe had a completely different style than Diana. Here you see Babe at the Paley cabana at her Jamaica home. It is one big window with the simple suggestion of an awning. You can peek thru the Slim Aaron's photo and see some very simple window treatments inside. 
Baldwin was also famous for mixing the old and the new as in this room decor with modern art and pretty traditional valence curtains.Our specialty is window valences. They are an uncomplicated way to update and freshen room decor. Review your window curtains and drapes. You can add valences between two curtain panels to bridge the gap, use valance curtains to frame a beautiful view, or dress up an awkward window with no view.
Choose from window curtains in many styles and colors to suit your own style. Whether you are looking for kitchen curtains or living room curtains, Decorative Things has window valences to add beauty to your home decor. From floral curtains, to striped curtains, black and white curtains to blue curtains and many more colorful options, our selection of window coverings gives you many options.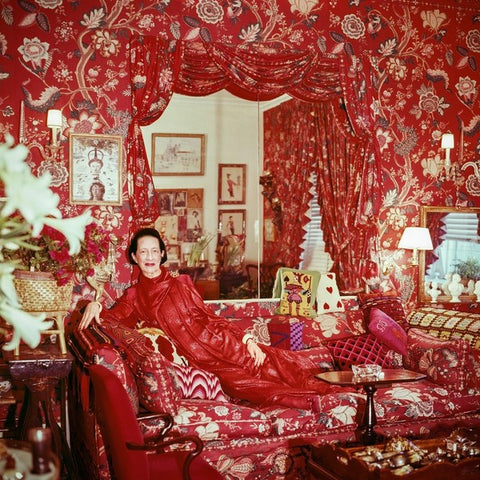 Kitchen Valences
Many of our prints lend themselves to kitchen valences. For example, our rooster print window valences are great for farmhouse kitchen decor. And our Tommy Bahama fabric valance curtains are fab beach house decor kitchen valences. Wherever you live, you and your family probably spend a lot of time in your kitchen, so kitchen window curtains are a decorating detail you can really enjoy.
We're sure Baldwin did many kitchens but they are rarely featured or written about in his books. Maybe it's because his clients were not in the kitchen much! But most of us are and kitchen valences are an important part of our kitchen decor. Decorative Things has valences that will work as kitchen curtains in a farmhouse kitchen, beach kitchen, rustic kitchens....Pick the curtain valances that match your room decoration and enjoy them everyday as you cook, plan meals, and eat!
Living Room Valences
If you are looking for living room valences, we've got plenty of fabrics that lend themselves to living room curtains and drapes. And they don't have to be as dramatic as Diana Vreeland's. Another great feature of our window valences is that they are easy to install. You can have DIY window treatments and be your own decorator. Baldwin is also famous for saying, "Some of the prettiest rooms have been done by one woman all by herself." Baldwin famously lived in one room. Sometimes he used mirrrors on the walls as below. The photograph of the room decoration shows Baldwin with his famous "slipper chair."